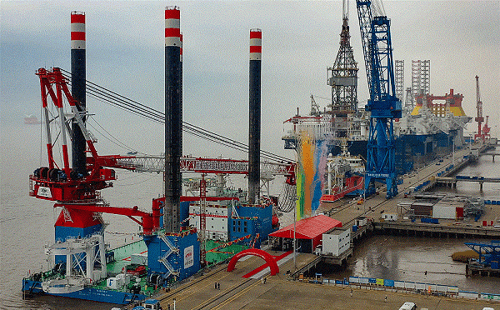 On December 16, the first 1300 ton self elevating self-propelled wind power installation ship "Tiejian wind power 01" built by Qidong COSCO Marine Engineering Co., Ltd. was successfully delivered for use,
It marks the addition of "offshore heavy equipment" in the field of offshore wind power construction in China. Domestic major media have also focused on the delivery of the wind power installation platform!

"CRCC wind power 01" ship is invested by China Railway Construction harbor and Shipping Bureau Group Co., Ltd., designed and constructed by Qidong COSCO Marine Engineering Co., Ltd,
It is the first heavy-duty self elevating self-propelled wind power installation ship independently designed and built in China with completely independent intellectual property rights.

China's offshore wind power industry is developing rapidly. According to the 13th five year plan for renewable energy development, 10 million kilowatts of offshore wind power will be built by 2020,
To ensure the completion of 5 million kilowatts, the market prospect is extremely broad. "Tiejian wind power 01" will be used for offshore wind power foundation piling construction, tower hoisting and fan installation after being delivered for use,
It can significantly improve the comprehensive utilization and research level of offshore wind power in China.

Qidong COSCO marine only took 16.5 months to complete the production design and overall construction, creating the fastest construction record of the same type of products in China,
It fully demonstrates the leading domestic and world-class construction capacity.

Bian Hongjian, project manager, Zhang Xiaoping, quality manager, Zhang Wei, senior surveyor of CCS, and Chen Yaojin, manager of China Railway Construction Supervision Group, are talking about the evaluation
It indicates that COSCO Qidong can build similar marine products on the existing basis, and the construction cycle of COSCO Qidong marine engineering is conservatively estimated to be 90 days ahead of schedule.

On the same day, the three overseas well-known enterprise module projects at COSCO Qidong Offshore Engineering Co., Ltd. were respectively erected in the dock, and the workshop project started the plate cutting ceremony at the same time,
COSCO Nantong and Qidong offshore are optimistic about the performance trend next year under the operation of general manager Li Rong.